Updates:
2022/10/26: published finally
2022/09/27: adding measurements and verdict
2022/09/15: starting write up
Introduction
Beside Fused Deposition Material (FDM) /  Fused Filament Fabrication (FFF) aka extruding hot filament, there are more methods to 3D print:
SLA (stereolithography): resin based printing
SLS (selective laser sintering): laser sintering, like polyamid powder
MJF (material jetting): deposite material and binder in one go
SLM (selective laser melting): metal laser sintering, aka metal printing
and I choose JLCPCB which provides all four of them, whereas SLM only stainless steel is available as of 2022 – other 3D printing services provide wide-range of metals as well.
Review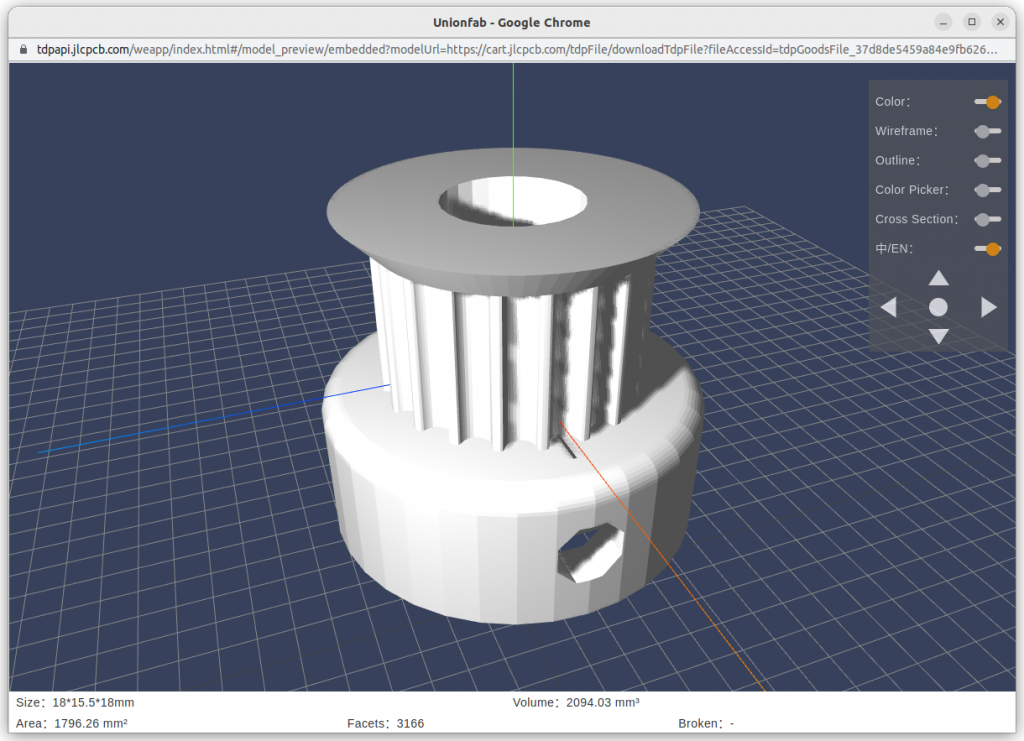 I ordered Pulley 20T 6ID (GT2 20 teeth 6mm inner diameter) as created via OpenSCAD Customizer, a piece which requires high accuracy and is mechanical stressed when in use, in following materials:
8x PA12 aka Nylon aka Polyamid, black reflective (MJF), 1.04 EUR / pc
8x 9000R resin, natural white (SLA), 1.04 EUR / pc
8x 3201PA-F aka Nylon, dark gray matte (SLS), 1.04 EUR / pc
1x 316L stainless steel (SLM), 8.30 EUR / pc
after 3 weeks the pieces arrived: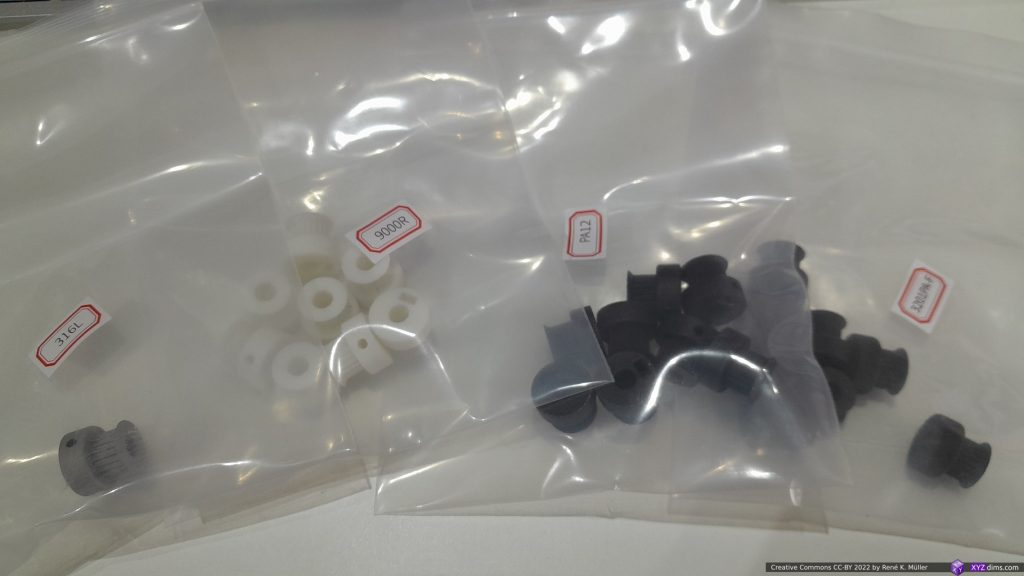 The overall quality of all pieces are excellent, regardless of automatic warnings I received while requesting the 3D printing task.
MJF: PA12 / Polyamid / Nylon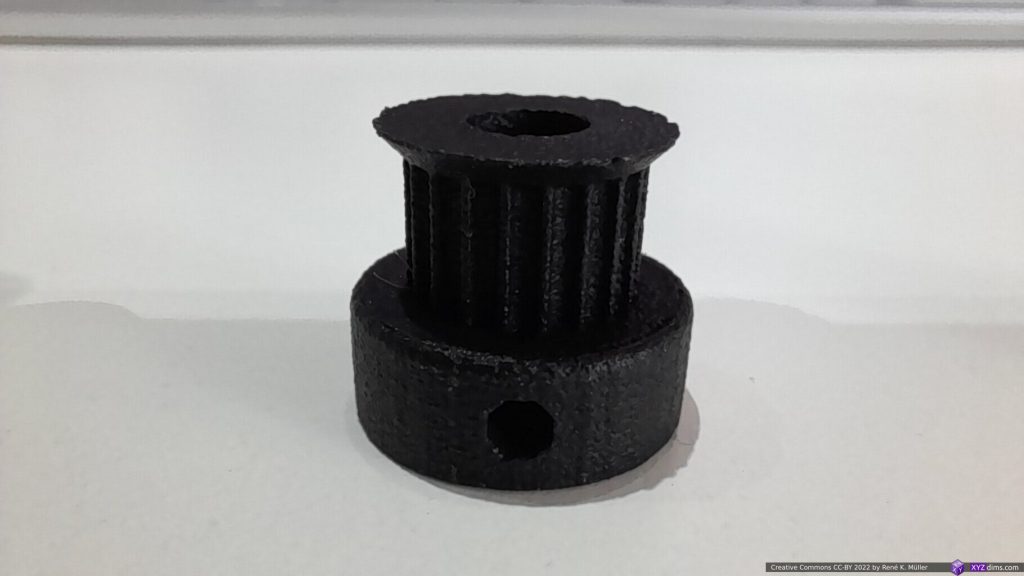 MJF has a nice finish, slightly reflective, deep dark, slightly grainy surface, and the top of the pulley is uneven, otherwise very precise.
diameter 16.1mm (+0.62%)
height 15.5mm (+0%)
cost EUR 1.04
SLS: 3201PA-F / Polyamid / Nylon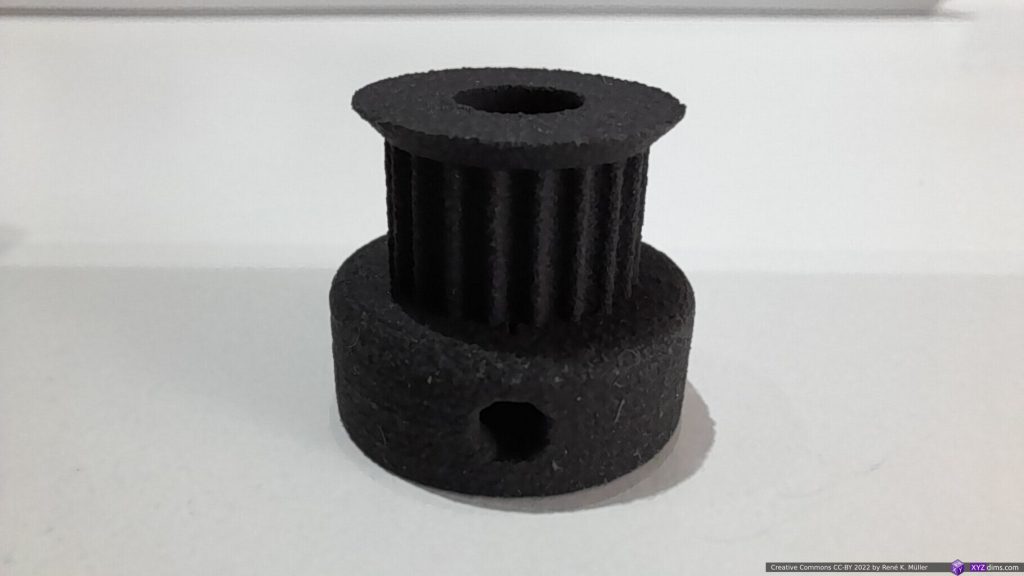 3201PA with SLS is a very good piece, dark gray matte, grainy surface, very precise.
diameter 16.05mm (+0.31%)
height 15.6mm (+0.65%)
cost EUR 1.04
SLA: 9000R Resin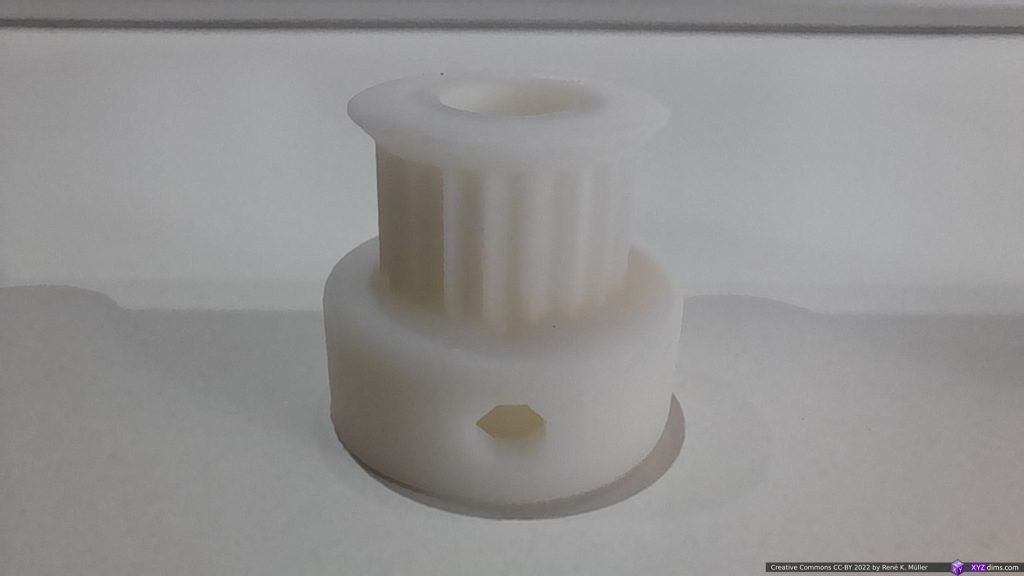 9000R resin with SLA produced a very nice piece, best finish at the top (near perfection), milky white color (vs cold white or warm white), but as it turns out not very precise:
diameter 17.75mm (+4.68%)
height 16.1mm (+3.87%)
cost EUR 1.04
It is very surprising to see the SLA having the biggest imprecision of all the samples.
SLM: 310L Stainless Steel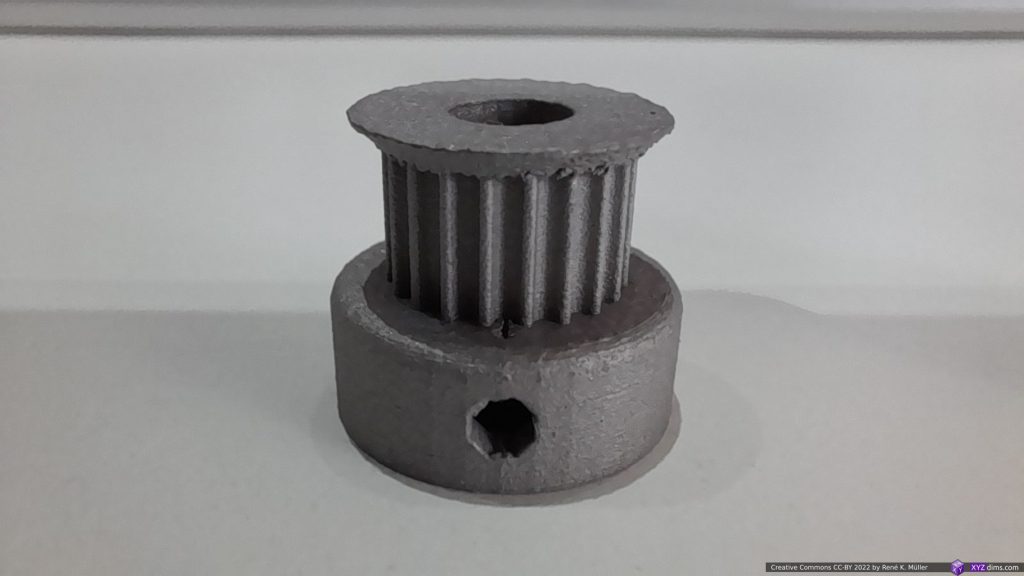 316L stainless steel with SLM produced a nice piece as well, the top of the pulley is good, some unevenness where the top goes over the gear: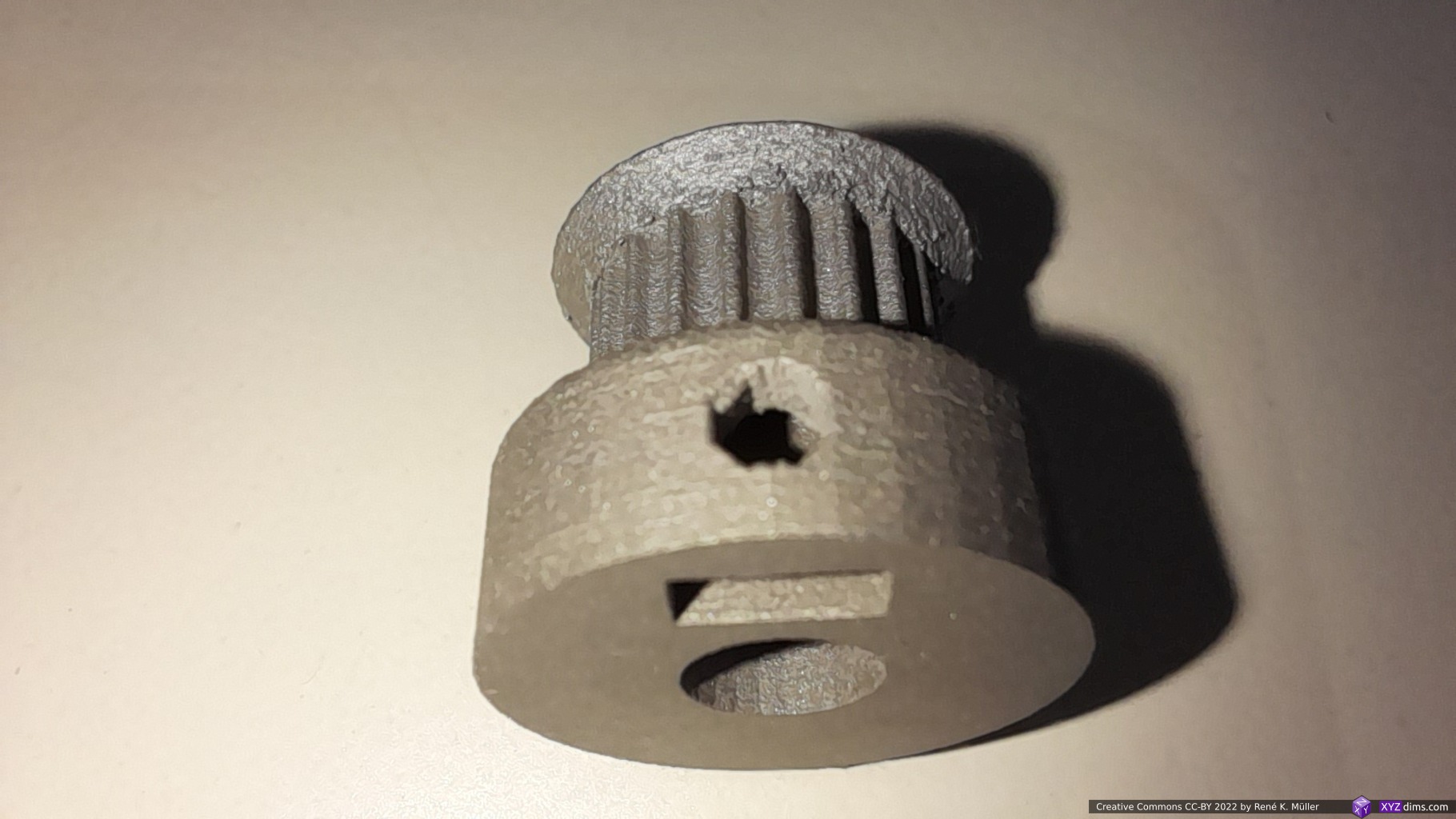 overall it's grainy surface – indicating powder-based additive procedure. Holding the piece in the hand feels heavy compared the other materials.
diameter 16.0mm (+0%)
height 15.5mm (+0%)
cost EUR 8.30
Verdict
The SLA / resin piece looked most smooth but it had the biggest imprecisions with over 3% in height and diameter – very surprising to me, it should comparatively be as precise as SLS and MJF. I cannot determine if it's from the JLCPCB resin printer, or inherent of SLA.
SLS and MJF with Nylon performed expectedly very good, very sturdy and precise.
SLM stainless steel surprisingly very precise, yet unsuitable in real life application due the heavy weight.
Long Term Usage
I will update this part as soon long term (1-2 years) usage experience is available:
SLA: Resin 9000R: (not yet)
MJF: Polyamid/Nylon PA12: (not yet)
SLS: Polyamid 3201PA-F: (not yet)
SLM: Stainsteel 310L: (not yet)
Materials & 3D Printing Methods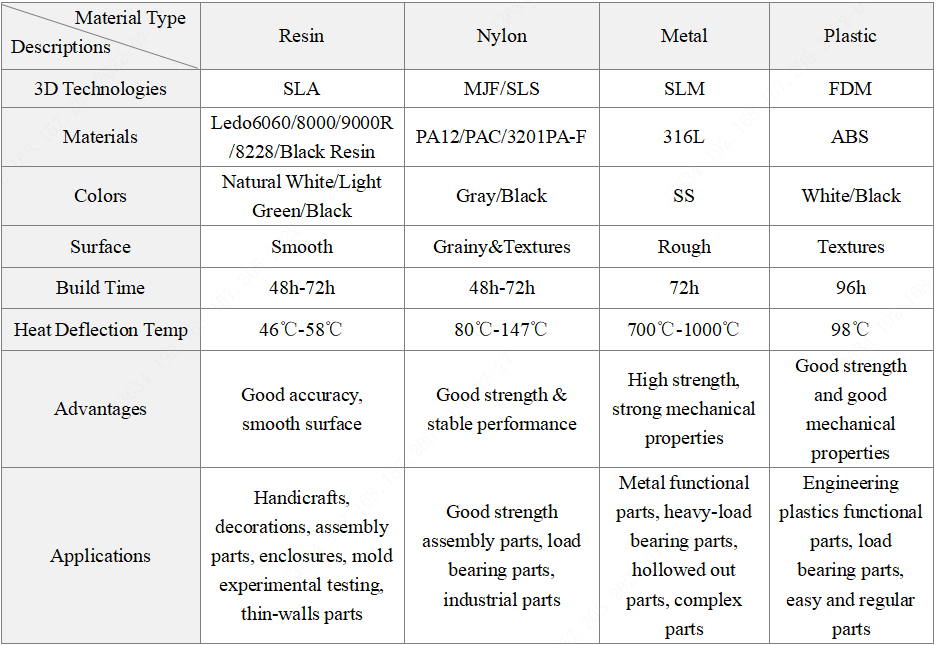 Comparing MJF Nylon vs SLS Nylon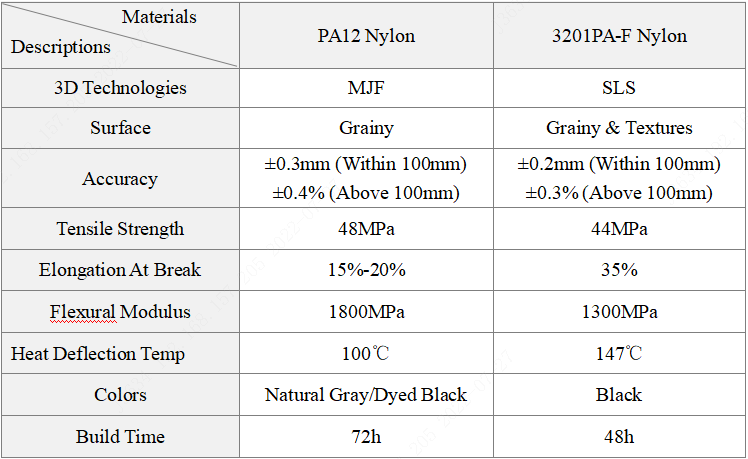 Comparing Resins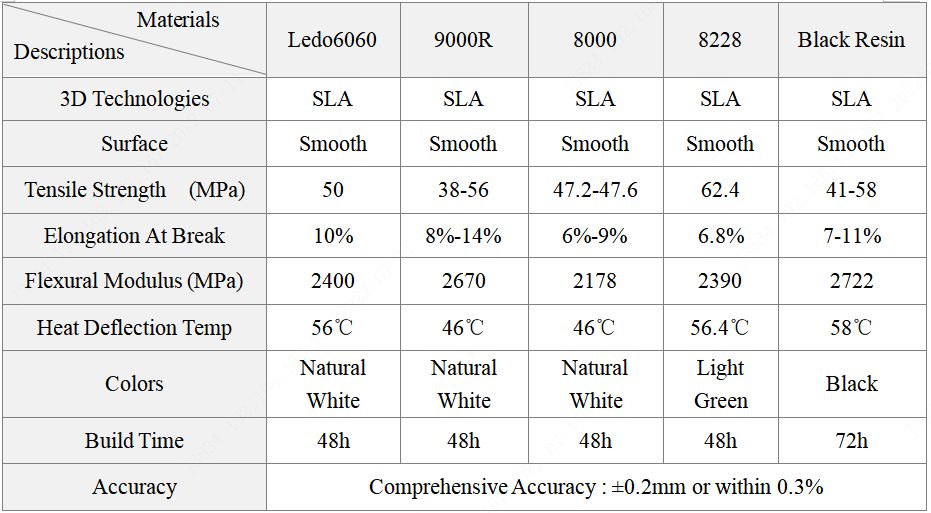 References