This is aimed to be small OpenSCAD Library which re-implements some of its basic forms in discrete manner so vertices remain accessible in order to manipulate before being transformed into actual polyhedron for CSG operations.
State: very experimental state, not yet released due several drawbacks, code released (e.g. polygons must have same amount of segments to properly extrude, resolved)
Updates:
2021/01/02: 0.0.6: code finally released
2018/12/30: 0.0.5: 3d: dm_merge([]) merge multiple meshes into single one.
2018/12/26: 0.0.4:

3d: dm_extrude_rotate(p,n=4,start=0,end=360) which allows simple dm_torus()
more detailed documentation and illustrations

2018/12/25: 0.0.3:

2d: added dp_translate(), dp_scale(), dp_rotate(),  dp_bounds() and dp_center()
3d: added dm_sphere(), dm_cylinder() and dm_cube(), and dm_translate(), dm_scale(), dm_rotate(), dm_bounds() and dm_center() as well

2018/12/24: 0.0.2: dp_morph() as part of dm_extrude() uses dp_nearest() to find nearby point of two polygons to morph smoothly, morph examples added
2018/12/23: 0.0.1: Point Functions, Polygon Functions and Mesh Functions added, code not yet released
Functions
Discrete Point Functions
dpf_ellipse(r1,r2,p,a=0)

​​​​dpf_circle(r,p,a=0)
dpf_circle(d,p,a=0) must use d=diameter

dpf_rectangle(w,h,p,a=0)
dpf_npolygon(s,p,a=0) whereas s amount of sides
each function returns single 2d point, whereas
p ranges between 0…1, at any resolution
a is the additional rotate angle (default: 0)
Discrete Polygon Functions
Polygon Functions use Point Functions to create an array/list of 2d points to describe a polygon; n amount of segments:
Creating Polygons
dp_ellipse(r1,r2,n=12,a=0)
dp_circle(r,n=12,a=0)
dp_circle(d,n=12,a=0) must use d=diameter

all above use dpf_ellipse() to construct the polygon
ellipse and circle is approximated with high count of n-sided polygon

dp_rectangle(w,h,n=12,a=0)
dp_square(w,n=12,a=0)

two above use dpf_npolygon(sqrt(2)/2,4) and ​dp_scale() if required

dp_npolygon(r,s,n=12,a=0,start=0,end=360) whereas s = amount of sides of the polygon, s​ > n * 2 for good approximation


Manipulating Polygons
dp_translate(p,t) where as t is a number or array [x,y]
dp_scale(p,t) where as s is a number or array [x,y]
dp_rotate(p,a)
dp_center(p,center=[true,true])
further:
​​dp_subdivide(p,n=2)

n amount of subdivisions per segment

dp_distort(a,s=1,f=1)

s amplitude of distortion
f frequency of distortion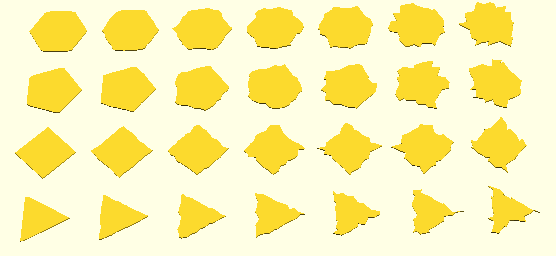 dp_morph(a,b,p)

morphs between two polygons (a and b), preferably both with same amount of segments and sufficient segments to have smooth transition
p range between 0..1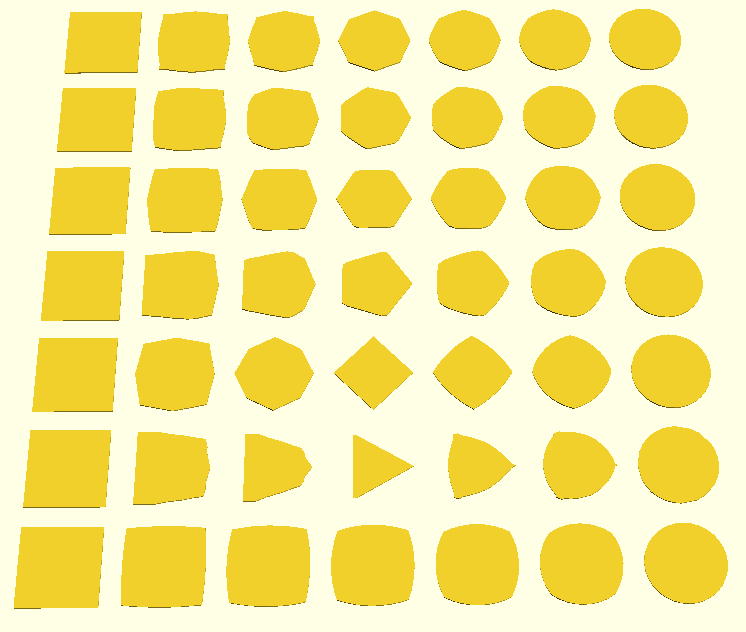 Query Polygons
[[minx,maxx],[miny,maxy]] = dp_bounds(p)
and finally
dp_polygon(p)

creates an ordinary polygon OpenSCAD object
Note: you no longer can access the individual vertices
Discrete Mesh Functions
Mesh Functions use Polygon Functions to create an array with two elements:
list of 3d points
list of faces using indexes of the 3d points
Creating Meshs
dm_cube(s,center=false)

s = side length or
s = array of [w,d,h] or [x,y,z]

dm_cylinder(r,h=1,center=false,n=12)

dm_cylinder(r1,r2,h=1,center=false,n=12)
dm_cylinder(d,h=1,center=false) must use d=diameter
dm_cylinder(d1,d2,h=1,center=false,n=12) must use d1= and d2=

dm_sphere(r,center=false,n=12)

dm_sphere(d,center=false,n=12) must use d=diameter

Cube and Cylinder are created by extruding dp_rectangle respectively dp_circle, whereas the Sphere is discretely done.
dm_torus(ri=1,ro=4,ni=48,no=48,ai=0,ao=0)

ri inner radius
ro outer radius
ni and no inner and outer n-sided polygon
ai and ao inner and outer angle offsets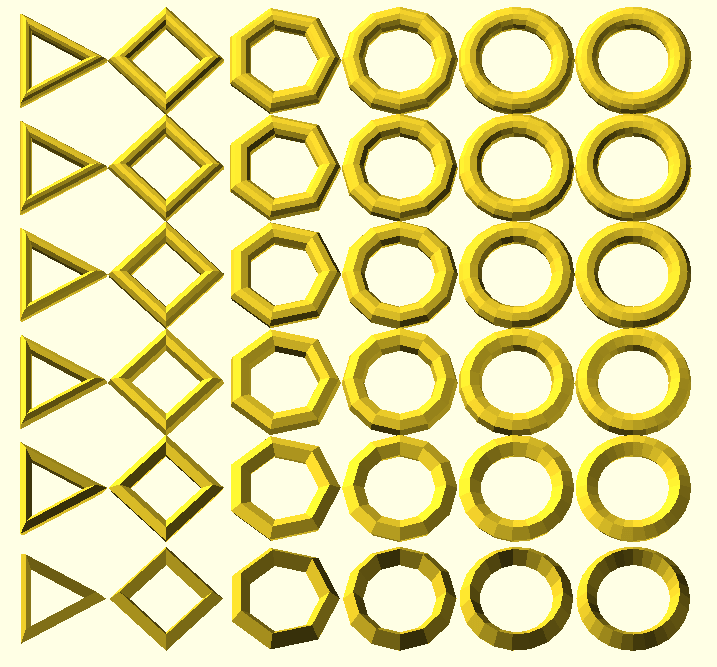 dm_extrude(a,b,s,h)

a & b: polygons
s amount of steps
h height (Z wise)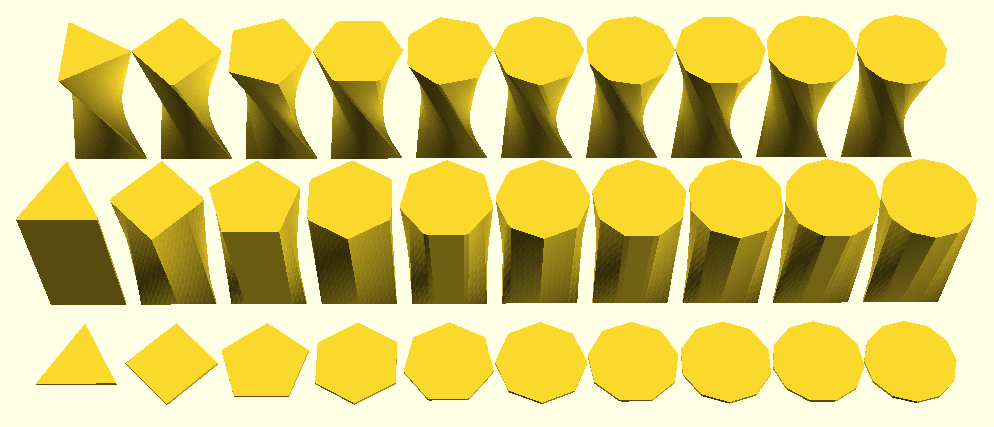 Note: the main aim of this library was to extrude two arbitrary polygons correctly; so dm_extrude() is the center of this entire undertake.
dm_extrude_rotate(p,n=4,a=0,start=0,end=360)

sweep or rotate a 2d polygon, n-sided, used to implement dm_torus()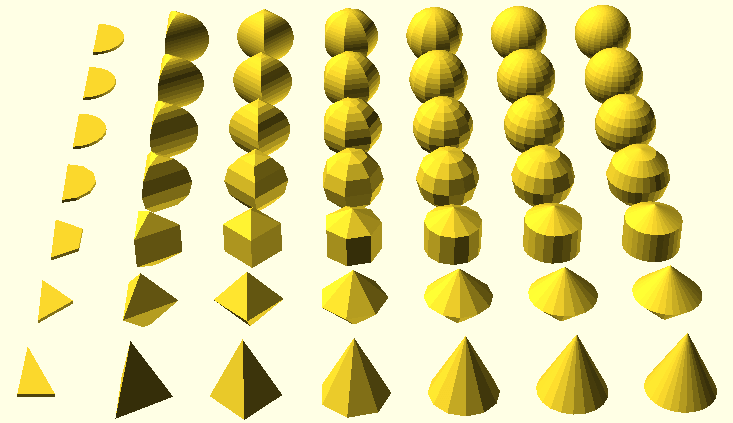 Manipulating Meshs
dm_translate(m,t) whereas t = number or array with [x,y,z]
dm_scale(m,s) whereas s = number or array with [x,y,z]
dm_rotate(m,r) whereas r = number or array with [x,y,z]
dm_center(m,center=[true,true,true])
dm_merge(ms) whereas ms is an array of meshes
and more interesting:
dm_distort(m,s=1.0,f=1.0)

distort the mesh, s amplitude, f frequency

Query Meshs
[[minx,maxx],[miny,maxy],[minz,maxz]] = dm_bounds(m)
and finally
dm_polyhedra(m);

creates a polyhedra which allows CSG operations
Note: you no longer can access vertices for manipulation
Todo
make polygon morph (part of extruding) segment/point count neutral:

using dp_morph() which uses ​dp_nearest(array,point) to morph between nearest points of polygons

disadvantage: some edges are missed where near-points don't catch it

consideration: additional strategies might be required, e.g. if polygon A and B segment count difference is huge, rebalance with using dp_subdivide() to achieve this for smoother morphing and extruding
done: walking through max(len(a),len(b)) through all points and align point indexes linearly a[i*len(a)/max] and b[i*len(b)/max]

release code, done
extrude along path (e.g. ​dm_extrude_along(a,p))
extrude rotate/sweep (e.g. dm_extrude_sweep(a,r)) done: dm_extrude_rotate(p,n,start=0,end=360)
more examples, more documentation done: most functions properly illustrated with examples
implicit meshes: define objects in implicit form (allows more natural objects with smooth edges), and transform it into meshes, see NodeJS Implicit Mesh as reference
CSG operations on polygon (2d) or mesh (3d) level, quite challenging to do since OpenSCAD are single assignment and ​​for() loops must implemented recursively
Download
https://github.com/Spiritdude/DiscreteOpenSCAD
Related Projects