A treasure of knowledge as posted on blog.reprap.org was collected by Gary Hogdson, which I host here as well for archival purposes:
Early research for
extruders, nozzels, heating blocks
printing material research ABS, PLA and other materials
slicing algorithms
deciding to use Arduino as motor controller
Notable Excerpts
RepRap Family Growth
Adrian Bowyer summarizes RepRap history April 18, 2011, in brackets the amount of RepRaps:
Spring 2007 – The first RepRap Darwin was finished. Its RP parts were made in a Stratasys Dimension. [1]
During that summer we made four or five sets of parts for the machine in the
Stratasys and sent them to RepRap team members round the world.
September 30, 2007 – Vik Olliver in New Zealand finished the second Darwin. [3]
Around Christmas 2007 – A number of people start to make wooden and lasercut copies of Darwin. The Bath RepRap Lab also supplied a Stratasys-printed set of Darwin parts to Ian Adkins of Bits from Bytes, who created silicone moulds from them and started selling Darwin copies made by PU moulding. [8]
February 21, 2008 – Zach Smith (now also of MakerBot) gets his Darwin working. [20]
February 22, 2008 – Ponoko have a lasercut version of Darwin.
Spring 2008 – Lots of the wooden and moulded Darwin-type Repstraps are working, and people start using them to print RepRaps.
April 2008 – Nophead starts printing Darwin parts on his Repstrap Hydraraptor. [60]
May 29, 2008 – Vik Olliver's Darwin has made a full set of parts for another
Darwin; these are assembled in New Zealand and finally tested when he visits at Bath University in the UK. This is the first true RepRap replication. [100]
Summer 2009 – RepRap Mendel introduced. [400]
Around this time Nophead, I, and many others went into serious production
selling reprapped sets of parts for RepRaps made in RepRap machines on Ebay etc. Summer 2010 [1500]
Spring 2011 – Nophead alone has made over 100 RepRaps for other people. I have made over 50. [4000]
Prusa Mendel Announcement
October 4, 2010 Josef Prusa announced his "Prusa Mendel" version with this post: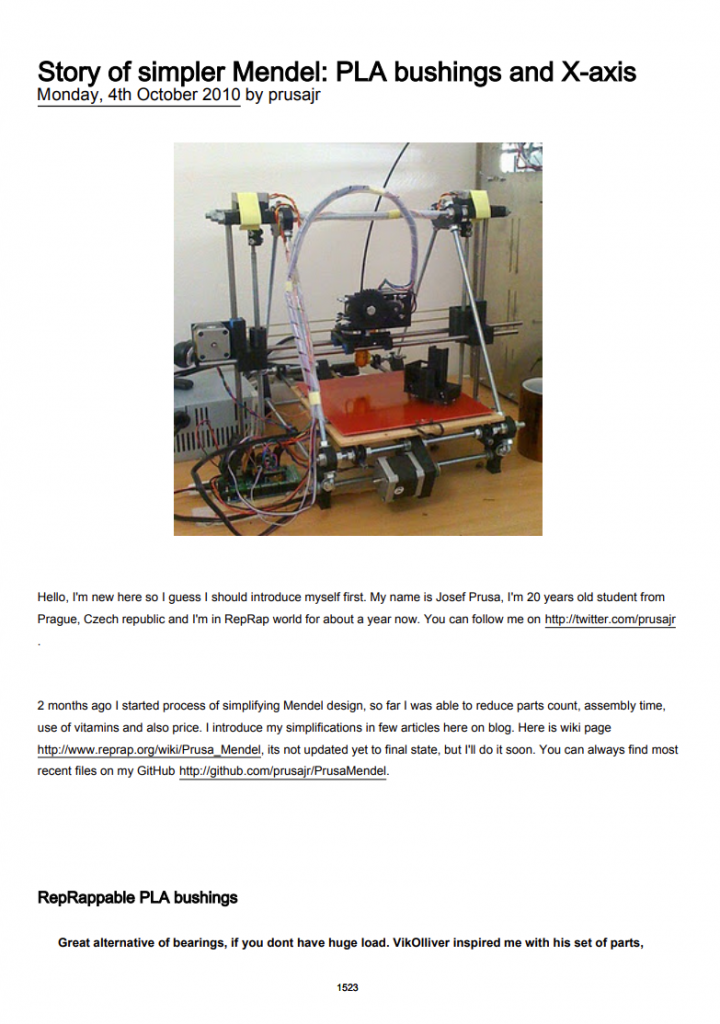 He eventually iterated to "Prusa i3" May 2012, which became quasi standard for low-cost FDM 3D printers.
See also 3D Printer History.