Status: verified design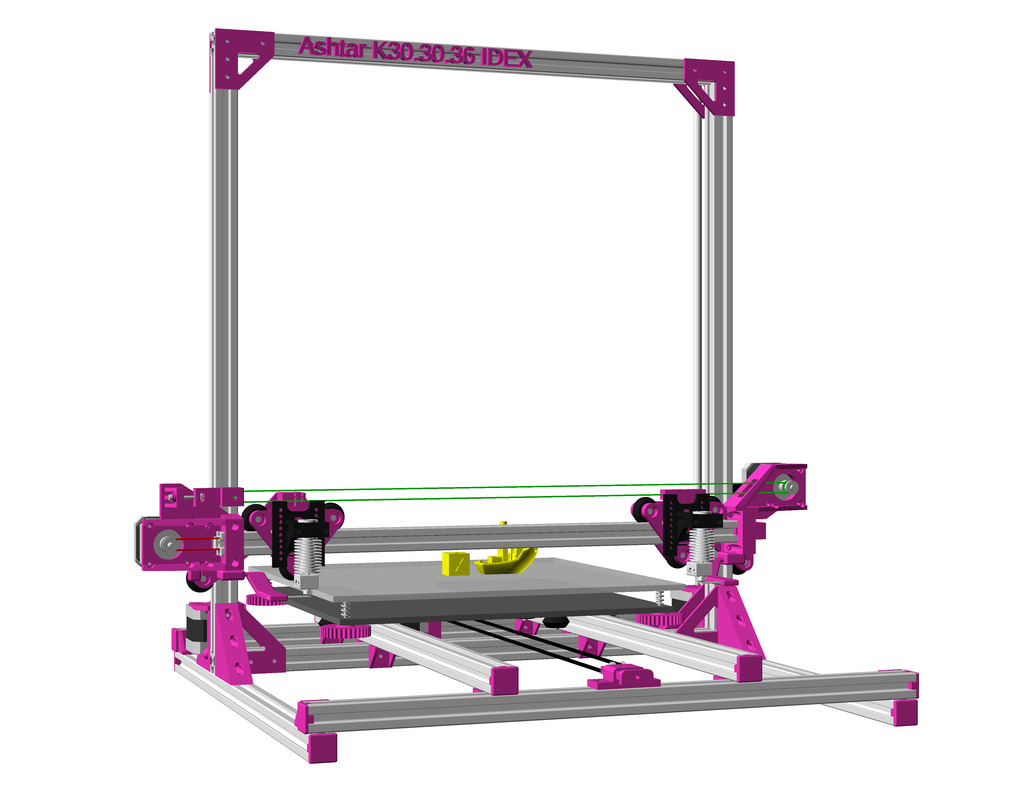 Updates:
2021/07/30: design printed and mounted
2021/01/19: improved 2nd X motor mount
2021/01/15: removable/replaceable ooze prevention
2021/01/14: Ashtar M (Moving Gantry – Draft) also with IDEX option now
2021/01/13: ooze prevention at rest position added, mechanical conflict resolved
2021/01/12: starting with a first draft, one mechanical conflict to be resolved
Introduction
I have been pondering on a dual independent X axis upgrade or option for a while, but the other designs of the Ashtar Series I wanted to do first (Ashtar D and Ashtar M) those matured by now (2021/01), so I decided to get back to IDEX upgrade for Ashtar K:
For now I like to keep single 2020 V slot alu extrusion for the X beam where the X carriage rides, and route the 2nd belt above for the 2nd X carriage – and this was a quick solution as earlier version of Ashtar K had the belt routed above the alu profile so I just reused the old pieces again.
"Above routed belt" option with its pieces are weaker and possibly need enforcement improved the strength, so it's a fast start – just took me 2 hours – but needs definitely some fine-tuning. Alternatively the 2nd belt could be routed at the back of the X carriages, but fastening the 2nd X motor would be challenging.
For now I use the same code base of Ashtar K and introduce IDEX = true flag, and enhance a few existing pieces in parts.scad and optionally add those new pieces when rendering printer-ak.scad.
As I progress with this option or upgrade I update this blog-post.
Draft
Issues to Resolve
X carriage #1 belt mount conflicts mechanical with belt 2: redesign xcarriage_beltmount_2020 piece, make it shorted in Z or fasten it inside V module: resolved, shifted

2nd belt

a bit Y off, and shorten xcarriage_beltmount_2020(idex=true) by 2mm.
"Above routed belt" pieces are weaker: enforcement required, resolved: piece strengthened (2021/01/19):

xcarriage_short_hmount_motor_2020 which is the base piece which routes the belt within the 2020, with idex=true option provides idler holder on top
X motor #2 is mounted on a x-mirrored version of xcarriage_hmount_motor(20,"left",idex=true) but definitely needs reinforcement, added ooze prevention in case of idex set
Nozzle drip prevention:

using a piece of sheet metal which the nozzle moves over when in rest position left or right, first attempt done (see below)
and/or use purge box with brush to clean nozzle after and before use
make extending "nose" detachable/replaceable as it's expected to break or overheat otherwise entire X motors mount needs replacement, resolved

xcarriage_nose-idex-left and xcarriage_nose-idex-right with 10mm wide sheet metal insert

how dealing with long resting hot nozzle?

drop temperature by 5-10°C in rest position, and heat up when in use again

heat creep possible weakening extending printed nose – heat insulation required attaching sheet metal
Gallery
Ashtar M IDEX
And since Ashtar M (Prusa i3 Moving Gantry – Draft) shares much of the Ashtar K design it took me a few mins to add the IDEX upgrade option as well:
References